OUR EQUIPMENT
You are not in the mountains. The mountains are in you. – John Muir
For your riding enjoyment, we provide meticulously maintained ATVs and side-by-side UTVs. Every machine is outfitted with an automatic transmission so it's super-easy to operate, even for first-time riders. We'll help you choose the one that's right for you—single seat ATVs, touring models with a passenger seat for sharing the ride, and side-by-side UTVs for two.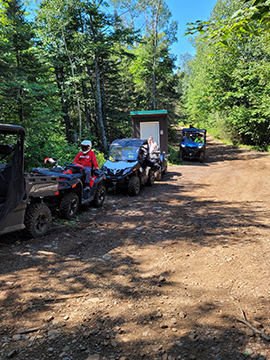 SOUND LIKE A GREAT WAY TO SPEND THE DAY? BOOK NOW
Want to ride your own ATV but are uncertain where to go? Worried about getting a little "turned around" on the trail? Book a spot to ride along with one of our great tours! Join our tour guides for a great ride and lunch with the group—all the beauty of northern Minnesota plus the safety of being with a guided tour.